President
Michael Howard
I grew up on a small lake in Connecticut, and both my father and best friend loved to fish. Subsequently I added the pursuit of trout and saltwater species in their respective habitats.  Wade or float fishing medium to large streams is my favorite.  A TU Life Member for over 20 years, and more recently Cape Cod chapter Secretary and Treasurer, I have been impressed with the number of dedicated volunteers working at the local level to protect and restore our cold water resources.  Residence: Osterville  Email: howard33@gmail.com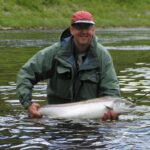 Vice President
Peter Schilling
Peter Schilling is a  Life Member and has been active for more than 30 years with Trout Unlimited.  He is a former President of the Greater Boston Chapter and a former MA/RI Council Chair.  His passion is fishing for Atlantic Salmon and anadromous trout species.
Treasurer
Bob Lewis
Bob Lewis is an avid fly fisherman and tyer from Cotuit.  He has served on the boards and as President of both the Osterville Anglers Club and the Cape Cod Flyrodders.  He recently joined CCTU, but has been attending presentations for the past decade and has become good fishing friends with many of the current members.  He keeps his 23' Parker, "Gotta Fly", at Prince Cove Marina.  In May you will find him out looking for a worm hatch and by June he will be out in the rips.  However, his real passion is to chase false albacore all over the east coast when fall rolls around!  He married his high school sweetheart Cathy and has 3 college aged girls and they all share his love for time spent on the water.
Secretary
Alan Alai
I started my fishing passion at the age of ten on the shores of Lake Tahoe where I caught my first trout. Since then I have enjoyed every day on the water. Before we moved to the Cape in 1996, I have been fortunate to fish in streams, rivers and lakes in California, Alaska and Colorado. My Colorado friends introduced me to fly fishing and I have never looked back. On the Cape I fish both fresh and saltwater from a kayak, and if I am lucky I will catch a trout and a striper on the same day!
I joined CCTU six years ago. As a Board member, I have grown to recognize the conservation efforts of TU and the truly incredible work we have done here on the Cape. We have a great volunteer organization that is dedicated to keeping our coldwater fisheries preserved. I am very honored to be part of this great organization.
Past President
Roberta (Robbie) Schilling
I was introduced to fly fishing by my fiancé (now husband) in 2012 and learned to fly fish at CCTU's Fly Fishing School in May of 2013.  The first fish I caught was a bluegill in the Charles River.  Since then, I quickly went "Past Go" and have fished for Atlantic Salmon and Sea Run Brown Trout in Iceland and Atlantic Salmon in Quebec.  I also like to chase after stripers during the worm hatch right here on Cape Cod.  I joined the Board as a member in 2014 and became Vice President in 2017.  Served as President from 2018 to 2020 and now serve as Vice Chair, Communications for the MA-RI TU Council.

Board Member
Joe Swaluk
Joe Swaluk is an educator, artist and writer who first joined TU in 1968. His passion for preserving cold water fisheries has never diminished.